Saturday and Sunday, August 20 & 21, Watsonville, Ca.
Ginny will be joining Sharon Allen on Saturday at the Santa Cruz County Fairgrounds in Sleepy John's Farewell Show (and BASH!). Look for Ginny on Sunday as well. Look for more information in this weeks Good Times.

---
Friday, September 2nd, 8PM, Felton, Ca.
Friday September 2nd, 2022 at Felton Music Hall, Ginny will be performing with Steve Bennett and Gary Blackburn in a "Songwriter In The Round" show that's bound to be loads of fun as the three of them tell stories and share original material in a good old fashioned Guitar Pull. And only $10 too! Get your tickets and come out and support the locals. We need you!
7pm Door. 8pm showtime.
---
PAST SHOWS
SAT, MAY 7TH, 2022, EUGENE, OREGON
HOUSE CONCERT, 7:30 PM
____________________________________________________________________________________________
Friday, March 18th, 2022, Soquel, California
Ginny's Birthday celebration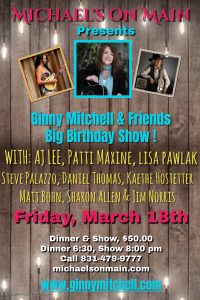 ---
Thursday, October 14th, 2021
Floyd, Virginia
Ginny was excited Redd asked her join him at his regular Thursday gig at the Floyd Country Store. Ginny and Redd played and toured together for years when he first arrived in the U.S. They met when Ginny was living and touring in Canada. She's drove cross country for the first time in eons, going to catch the Grand Canyon and other highlights on the way.
---


Thursday, June 24th. 2021
Michael's on Main, Soquel, Ca.
Ginny Mitchell, Patti Maxine,Lisa Pawlak
---

Saturday, June 26th, 2021
Davenport Roadhouse, Davenport, Ca.

Ginny Mitchell, Lisa Pawlak, Patti Maxine

with special guest, Kaethe Hostetter, fiddle player extraordinaire!
---
Thursday, July 1st, 2021
Michael's on Main, Soquel, Ca
Steve is a multi instrumentalist,singer songwriter. This is a very special reunion of this pair of collaborators.
---
Thursday, July 15th, 2021
Michaels on Main, SOQUEL, Ca.
Ginny Mitchell hosts Mark Schwartz, Hot Club Pacific guitarist.
" Marc Schwartz? Yeah that guy's a GREAT player"
John Jorgensen
Sunday, March 10th, 10:30 AM, 2021
KPIG Radio, 107.5 FM
Please Stand By with Sleepy John
---
Wednesday, March 13, 7:30 PM – EmmyLou Harris Tribute Night

with AJ Lee, Ginny Mitchell , Patti Maxine and Karin Phoenix
Michaels on Main, Soquel, Ca
---
Saturday, May 18.
Ugly Mug, Soquel, Ca
a Fiddling Cricket and Canyon Acoustic Society show
Tuesday August 14th, 2018,
House Concert, Eugene OR
Sunday June 4th, 2018
Redwood Mt. Faire
Ginny Mitchell and her Posse
Thursday April 27th, 2018
Kuumbwa presents: Bob & Joey Jackson Music Therapy Program Benefit feat. Keith Greeninger, Ginny Mitchell & Bennett Jackson
Sunday, Nov 17, 2017 7:00PM
Kuumbwa Jazz Center
A Tribute to Jesse Winchester and Townes Van Zandt
Sat Aug 19, 1:00PM
Gilroy Car Show W/ Wredhorse
Gilroy, CA
Fri Aug 25, 5:00PM
Michael's On Main With S'wang
Soquel, CA
Tue Aug 29, 2017 6:00PM
Davenport Roadhouse – With S'wang
Davenport,Ca
Thurs Sept 21, 2017 8:00PM
Tsunami Books w Laurie Lewis
Opening for Laurie Lewis & the Right Hands
Eugene,OR
Fri Sept 22, 2017 7:00PM
House concert
Eugene, OR
contact:mmeyer@efn.org
Wed Oct 4, 2017 6:30PM
Rumor Mill
Friday Harbor, WA
Fri Nov 17, 2017 8:00PM
Severinos/ Seacliff Inn- With Wredhorse
All Ages
Aptos,Ca
Sat Nov 18, 2017 8:00PM
Michael's On Main
Soquel, CA
Fri Dec 15, 2017 8:00PM
Michaels on Main With Wredhorse
Soquel, CA