Santa Cruz Musician Ginny Mitchell to Celebrate Storied Career at Michael's on Main
If you think too hard about birthdays, they can seem pretty arbitrary—let's face it, our bawling, wrinkly debut wasn't anybody's best day. For adults, the celebration of that date tends to be more of a way to mark time and sometimes get presents than an occasion loaded with meaning.
But for Ginny Mitchell, this birthday is different. For one thing, the Santa Cruz singer-songwriter will be doing a retrospective birthday show at Michaels on Main on Friday, March 18. She'll play songs from all the phases of her career, which has wound through folk and rock, country and bluegrass, jazz and swing—with many combinations of genres along the way. And she's bringing an all-star band of local musicians to the stage for this retrospective, including AJ Lee, Patti Maxine, Lisa Pawlak (aka Lisa P), Steve Palazzo, Daniel Thomas, Kaethe Hostetter, Sharon Allen, Jimmy Norris and Matt Bohn. You could say that this show is as much a celebration of her bond with these friends as it is of Mitchell herself—and in some cases, they go way, way back.
"Steve Palazzo and I went to high school together at Santa Cruz High," says Mitchell. "I taught him his first D chord. We went on tour together back in the '80s. And I have a photograph of me and Patti when we did this little gig, I was all of 17, 18—we were just babies, singing at the Poet and Patriot."
Of course, Mitchell has only formed a bond more recently with the younger players, like Lee. She's floored by Lee's talent, and is reminded of someone like Alison Krauss, who played on Mitchell's first CD, Wild Rose, in 1993. And she thinks mainstream success is in Lee's future.
"My prediction is that AJ Lee is going to break through, like Sarah Evans broke through, like Molly Tuttle is breaking through," she says. "There's something that I recognize in AJ that I haven't seen in others. She's got it. Whatever 'it' is, she's got it."
Even Mitchell herself is kind of blown away by the group that's come together for this show.
"We had a rehearsal last night, and I sat there and looked around me, and I thought, 'These people are just so amazing,'" she says.
This birthday bash is also significant because it comes at a time that Mitchell is feeling a creative resurgence. The last decade has seen some dark days—she and her husband Marty Collins had to close their innovative production studio the Digital Media Factory in 2013, after Collins—a two-time cancer survivor at the time—suffered a medical catastrophe in 2012 during what was supposed to be a routine surgery. In the aftermath, he was put on a respirator and not expected to survive. But he defied the odds for several years and even returned home and regained his ability to breathe without a ventilator. However, he passed away in 2016.
It took years for Mitchell to get to a place where she felt she could be creative again. It was her siblings who encouraged her to return to performing and writing.
"I thought, 'I can't do it. I don't have the energy for it,'" she remembers. "But I started playing music with different friends of mine. I realized I got a charge out of that. It was like, 'I remember this feeling.' The music just brought me back to life. It's always been that way for me, ever since I was a kid. But this time, as an adult, it was everything."
Now, she's writing and recording songs again, and ready to decide what's next.
"It just takes some time to sort of heal a little bit," she says. "I've found myself in a place where I can really look forward. It's the first time in my life, really, where I thought, 'Okay, well, what am I going to do? Where am I going now?'"
Ginny Mitchell's Birthday Bash will be held on Friday, March 18, at 6:30pm at Michael's on Main, 2591 South Main St., Soquel. $50 ticket includes dinner and show. For tickets, go to michaelsonmainmusic.com.
SINGER, SONGWRITER, SURVIVOR
By Michele Murphy
Beloved local singer-songwriter Ginny Mitchell said, "I think I was always singing, but when I was three my mother put me in the church choir." Her brother Bill was her idol. He played drums in the school band, so she did too. Then he took up guitar, so she had to do that as well. She took lessons in sixth grade, learning all she could and playing all the time. "Music meant everything to me," she said.
At the tender age of 14, Ginny lost both of her parents within the same year, bringing her to Santa Cruz to live with relatives. Ginny carried her guitar — the last birthday present her parents gave her — everywhere and continued to play and sing at every opportunity. Her great grandparents had a home in Ben Lomond and she remembers sitting at the Highland Festival with Johnny Weismuller.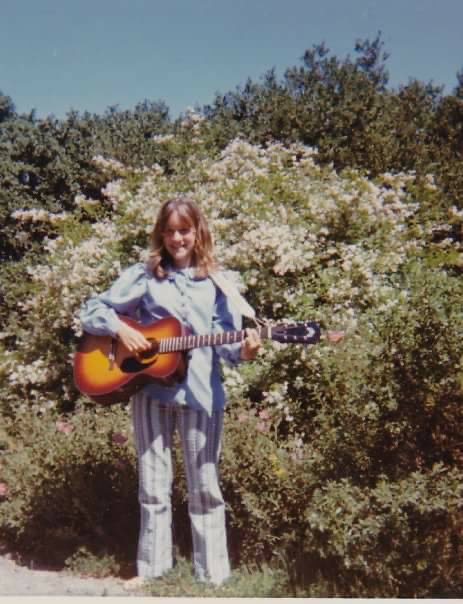 As a young newlywed, she got a gig singing at the posh Banff Springs Hotel where she was approached by a producer from Nashville who offered her recording time at his studio. She met industry greats, and opportunities arose to play at increasingly better venues like the Calgary Stampede. Soon after, she won the Canadian Country Music Association Rising Star Award for the best new artist of the year. Television shows and longer tours, including gigs with popular musicians, followed. Ginny said, "My fondest memories are recording with Alison Krauss, opening for Merle Haggard, writing and singing with Peter Rowan, and touring with Redd Volkaert and Bill Laymon." During her busiest years she was playing six nights a week, five sets a night. She said, "You either burnt out or got pretty good, real fast."
When asked what it was like to be a woman in the music industry she said, "To get anywhere in the business, even now, you had to have great players, which meant keeping them working. The hardest thing was trying to do that while keeping my marriage together. I failed pretty miserably at that." Her bandmates supported her and schooled her. Attending Cabrillo College in later years, she says her real education came from being on the road.
But touring gets old. Ginny said, "To the club owners, your value was reflected in the amount of alcohol you sold. There were times we broke into better venues with higher visibility, but to keep the cash flowing, smaller clubs kept us going. There came a point where I just had to rethink my future." Taking a different direction, she joined the Mount Madonna Choir, and paid the bills by teaching and performing for the Young at Heart Project singing for seniors. Going back to being a "seeker" and a server, someone who made music for the sake of making it and sharing it, and less for self-promotion and advancement, felt right.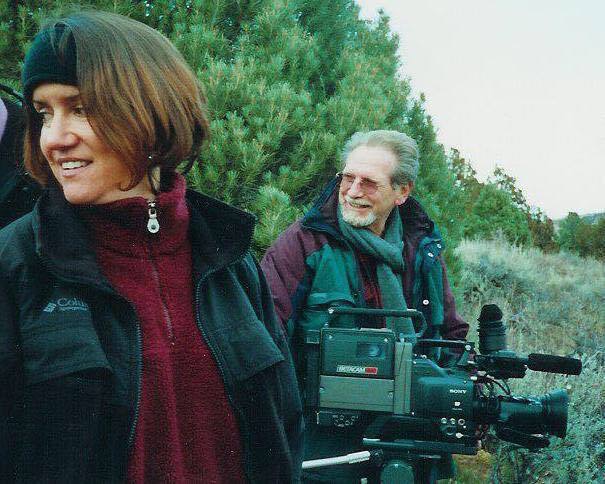 Ginny met Marty Collins, her second husband and love of her life, at his studio in San Jose. "Marty loved music and the arts and understood what it took to thrive as an artist," she said. Ginny was able to focus more on writing her own songs and collaborating with Marty on video projects. But, as they were about to launch a music television show, Marty fell ill and the project was shelved. Losing Marty five years ago, she has had to set about rebuilding her life again. She has been working on getting the precious footage she has preserved completed for air. (Visit santacruzlive.tv to see Santa Cruz Live TV, Episode 1 .) She's also staying busy producing an album, teaching (piano, vocals, and guitar), and playing around town. She says, "Life is pretty full, pretty sweet right now. And it wouldn't be possible without the support of my family, friends, and musical community."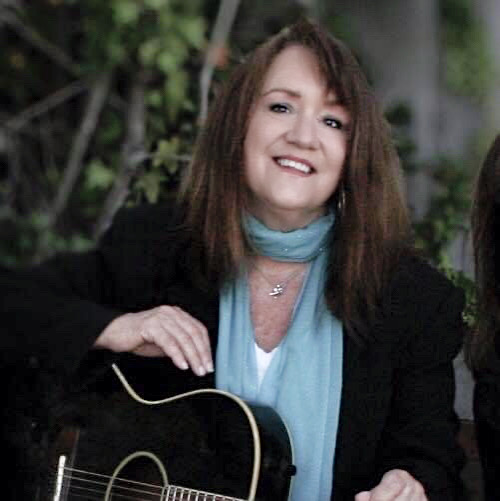 Visit ginnymitchell.com.
Michele Murphy is a singer-songwriter from Buffalo, NY and a resident of the Santa Cruz area since 2005. She lives in the beautiful San Lorenzo Valley and is entrenched in the local music scene both as a performer and a fan.
Featured photo by Shmuel Thaler
Santa Cruz Sentinel, 10/17, Ginny goes on solo tour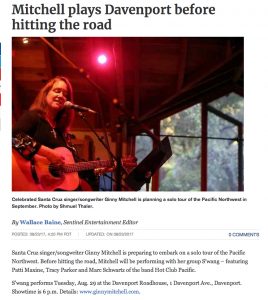 Eugene Register Oct 2017, Ginny's Eugene shows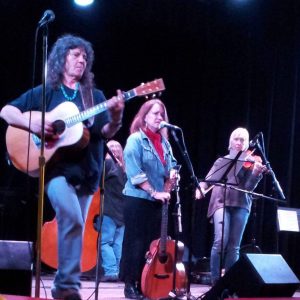 Ginny Mitchell returns to Shuswap
Singer/songwriter brings solo tour to Old Malakwa Church on Sunday, Oct. 1
Singer/songwriter Ginny Mitchell returns to the Shuswap for a solo performance at the Old Malakwa Church on Sunday, Oct. 1.The Santa Cruz, California artist began studying music in high school, but her musical career began in the mid-1980s, after she married and moved to Sicamous. While living there, the couple began a concert production company called Starlite Productions. At the same time, Mitchell began to make a name for herself as a singer and, in 1986, was named best new artist by the Canadian Country Music Association, and was also nominate for a Juno.Mitchell and her husband eventually moved back to Santa Cruz where she formed a band. Around this time, her marriage ended. Eventually she would meet and marry filmmaker Marty Collins, who would direct Mitchell's music video "Wild Rose." Mitchell and Collins started a production company, also called Starlite Productions. The two would later marry and Mitchell's career branched into film/video production.
Throughout the 2000s, Mitchell and Collins ran the Digital Media Factory in Santa Cruz. In late 2012, Marty was diagnosed with cancer. Everything was put on hold as Mitchell became a full-time caregiver, until Collins passed away in 2016.Tired and heart sick, Mitchell sought solitude to heal and renew. Her friends and family encouraged her to return to her music. Along with singing at a local church and with two bands, Mitchell also decided to head out on her first solo tour, which began on Sept. 16.Mitchell will be treating audiences to songs she's written, covers of favourites, as well as stories of hope and resilience.Doors open at 4 p.m.